Investors Should Look Into DSCR Loans for SFR Financing
Real estate investing is a numbers game, and one of the most important numbers investors should know is DSCR. Whether you own one single family rental, a portfolio of SFR homes, or a multifamily unit, DSCR is key to evaluating the risk and profit potential of your investment.
So, what is DSCR?
DSCR stands for Debt Service Coverage Ratio. It's a calculation that compares your rental income on an investment property to the expenses of the investment. You need to consider several figures when calculating DSCR:
Principal and interest on the real estate loan
Taxes
Insurance
Association fees
DSCR helps lenders and investors measure the ability to pay debt from the cash flow generated from the income property. It's much like debt-to-income ratio in residential real estate with one major difference:
DTI percentage is based on personal income, while DSCR is based on the property's income.
When a real estate investor applies for a DSCR loan, the lender underwrites the property's DSCR to determine if they'll approve the loan request and how much money they'll lend.
DSCR loans are a great financing option for both experienced and first-time real estate investors.
These types of loans for investors enable the real estate investor to finance properties without using their personal income to qualify. The great thing about DSCR loans – investors don't necessarily need a lot of capital to start building real estate wealth.
Another plus – investors can deduct property depreciation from their taxes. They can also receive tax credits for purchasing low-income housing.
Property values and rents have increased steadily over the past two years, which has made DSCR loans a more popular option for real estate investors. Like Lima One, most private lenders offer long-term DSCR loans for long-term and short-term rental properties as well as vacation rentals.
It's important to note that DSCR requirements may be different for long and short-term rental loans.
DSCR Tips for Real Estate Investors
DSCR loan programs have become a great option for real estate investors – especially as rent and property values have increased. Higher property values give investors more equity to leverage, and higher rents make it easier to find cash flowing properties.
But as the housing market continues to fluctuate, it's important for investors to remember these takeaways about DSCR loans.
For real estate investors who have established properties that are already generating positive cash flow, DSCR loans are a great tool for leveraging equity, scaling their business, and taking their real estate investment property portfolios to the next level.
When you decide it's time to scale your business or build your investment portfolio, it's important to make sure you have the right lending partner. When you partner with Lima One, our experienced lenders will help you find the right financing for your properties.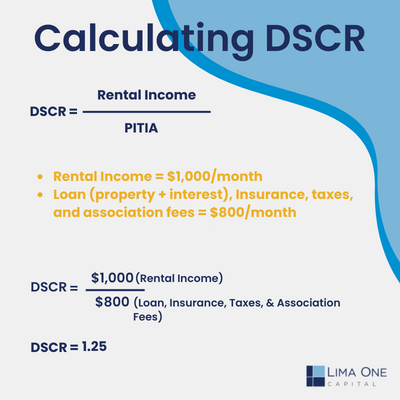 Our clients have different investment strategies, so we have designed our loan options to allow us to cater to their individualized needs. We have private lenders near you, located across the nation, with knowledge and experience in the area you are looking to invest.
Contact us today to discuss your next deal, or if you have a deal in hand, accelerate the process by applying now.